Rotary Spelling Bee Contest Prize Distribution on 03rd Feb 2022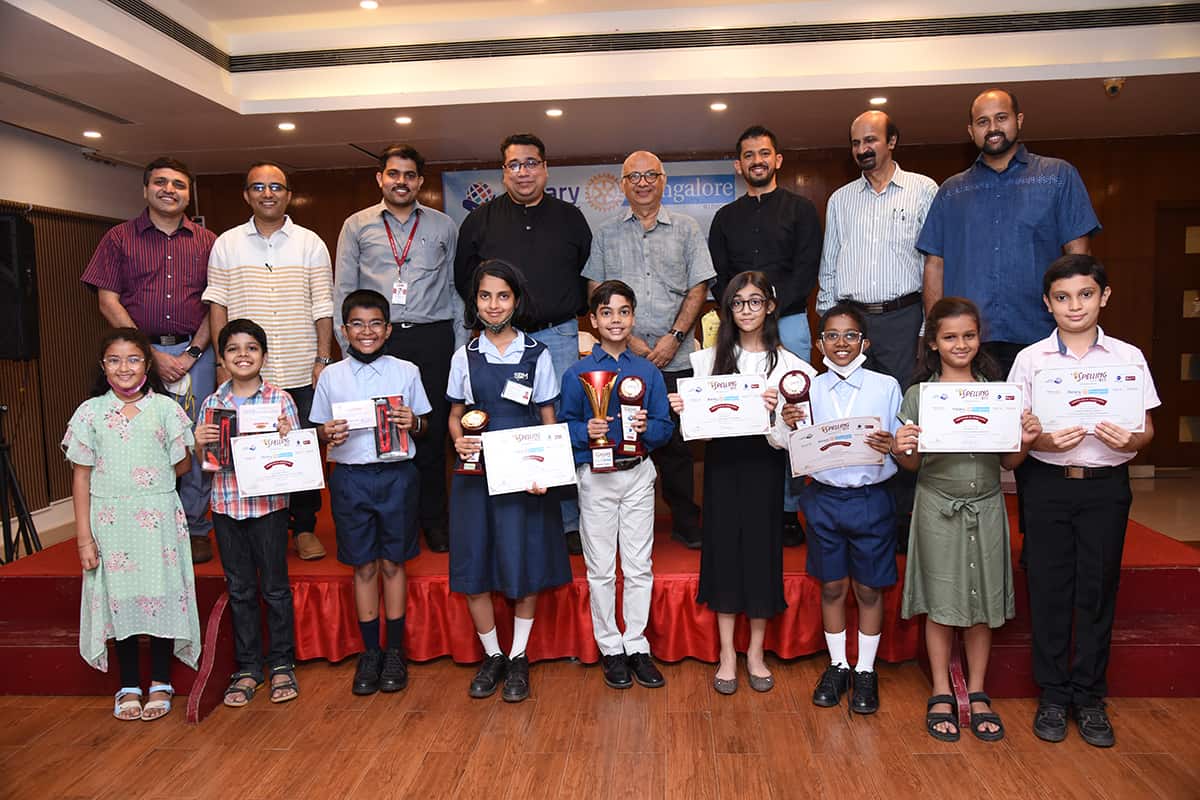 After the invocation, the welcome address was delivered by Club President Sudhir Jalan, wherein he welcomed the Chief Guest Sri Cheluvaraju B. Dy SP, ACB Mangalore Police, the winners and finalists of the Spelling Bee Contest 2022, the Sponsors of the Spelling Bee Contest Mr Ashray Bhandary from School Book Co Pvt Ltd and Mr Muralidhara from IDFC First Bank, the Student Coordinator Dr Savita and the Rotaractors from SDM PG Center Rotaract as well all the guests and Rotarians in attendance.
The proceedings were then handed over to Rtn PHF Divakar Pai Kochikar to announce the results of the Spelling Bee Contest. They were honoured for their achievement, wherein the winner was our own John Tarun Pai (Son of Rtn PHF PP M. Venkatesh Pai) of Cambridge School Mangalore. The 1st Runner-Up was Samyak M. of SDM School, Mangaluru and the 2nd Runner-Up was Saadhvi Shastri of SDM School, Mangaluru. There were 11 finalists who were also honoured, and Certificates as well as personalised pens were given to the Event Volunteers.
1. Valerie Janice Rodrigues – St. Aloysius Gonzaga School, Mangalore
2. Tanisha P C – Cambridge School Mangalore
3. Paritosh Shenoy – Canara Higher primary school Urva Mangalore
4. Nived Ragesh – Lourdes Central School Mangalore
5. Nimrah Taher – Don Bosco English Medium school, Shirva
6. Johan Samuel Arosa – St Theresa School Mangalore
7. Iman Pudiyapura – The Yenepoya School Mangalore
8. Clyde Noronha – Shakti High School Mangalore
9. Chaitanyashree R Udupa – Oakwood Indian School, Kundapura
10. Akansha A S – St. Theresa School Mangalore
11. Aashutosh Shastri – SDM School Ashoknagar, Mangaluru
2nd Runner Up: Saadhvi Shastri – SDM School Mangaluru
1st Runner Up: Samyak M. – SDM School Mangaluru
1st Place & Winner of Mangalore Round: Tarun Pai – Cambridge School Mangalore
Two participants from Mangalore have come in the top 5 spots.
Finals Results – PRIZE WINNERS SPELLING BEE 2022
——-
Winner was A Sriyaa, PSBB School, Chennai
1st Runner Up – Tarun Pai, Cambridge School, Mangalore
2nd Runner Up – Tamara Rose Furtado, Sophia High School, Bangalore
3rd Runner Up – S. Bhavna, PSBB School, Chennai
4th Runner Up – Samyak M, SDM School, Mangalore
——-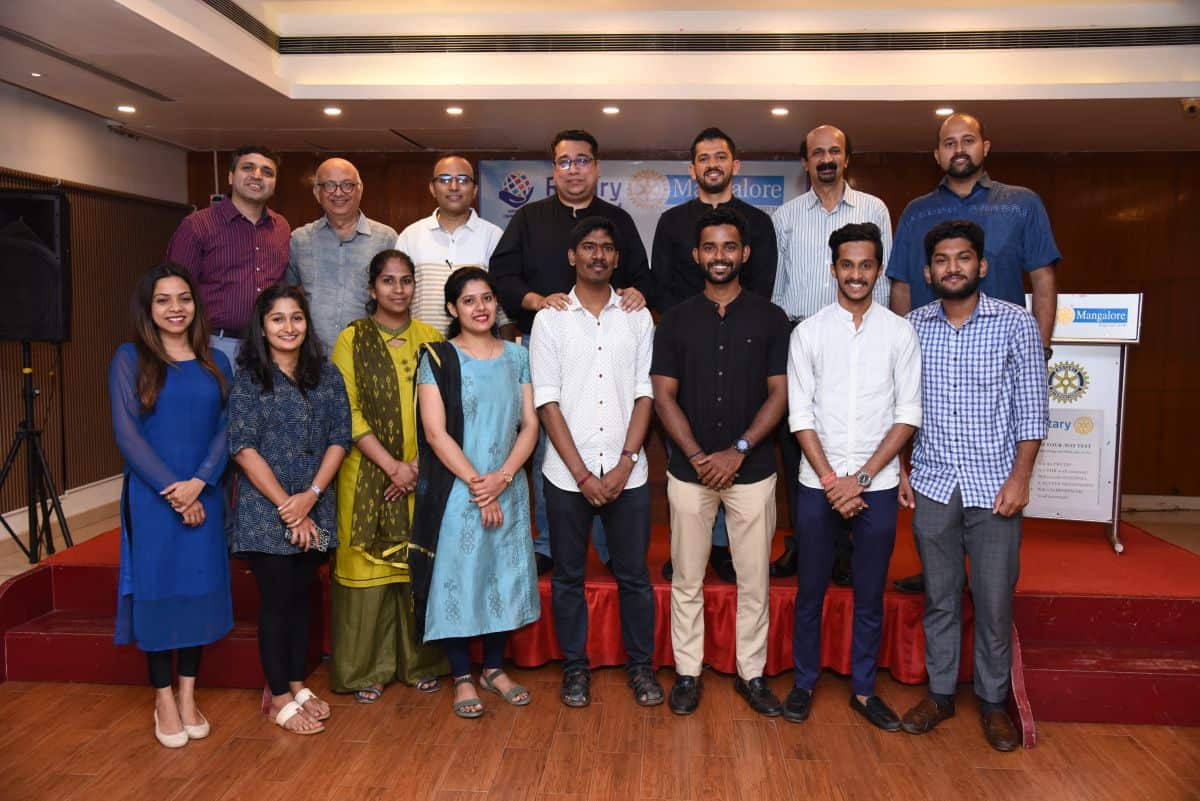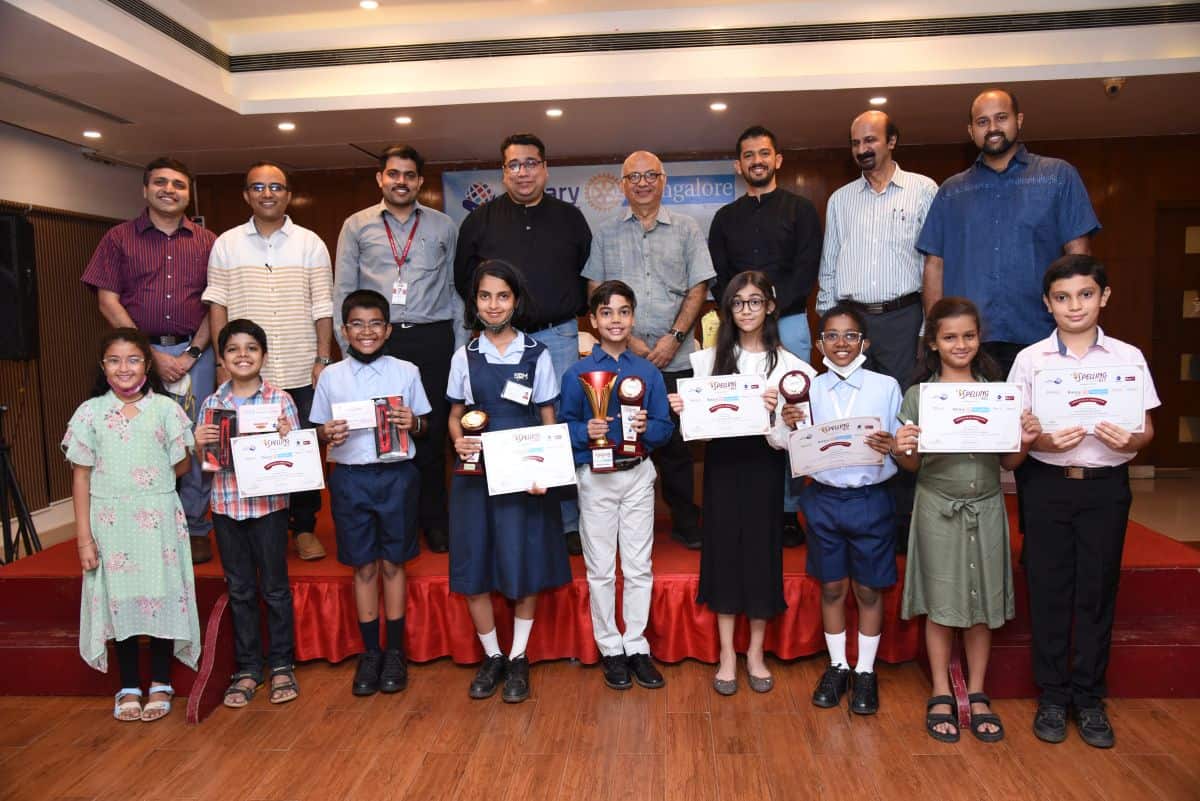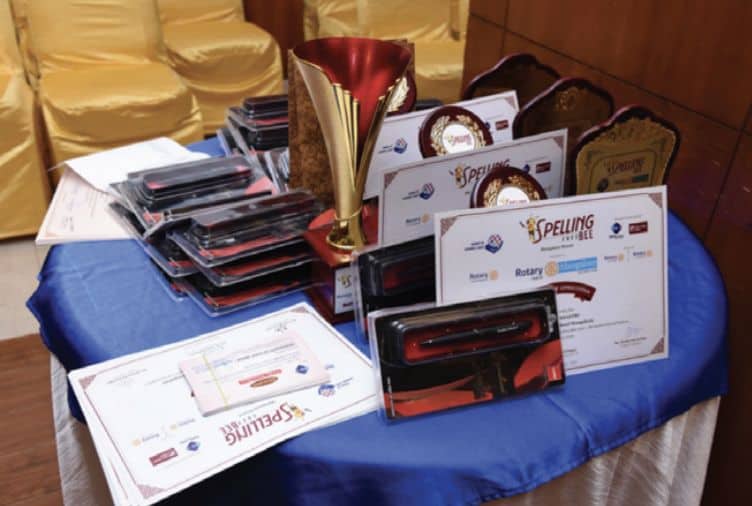 Want to Contribute to This Projects
Contributions to any of our projects may be made to our charitable trust. Kindly contact us regarding any contributions. Donations made to Rotary Club of Mangalore Charitable Trust are eligible for deduction under Section 80G of the Income-tax Act 1961 as per letter No.R-28/80G(R)CIT/MNG/09-10 valid from 01-04-2012 to perpetuity.