Inauguration and handing over of the Global Grant program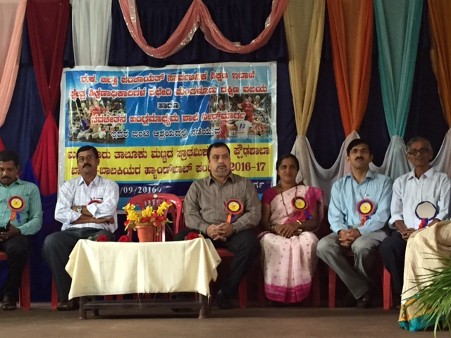 Inauguration and handing over of the Global Grant program – The School Support Project – at Navachetana School, Neermarga
Hon. MLA Shri Ivan D'Souza and Rtn. PDG Sadananda Chathra inaugurated the newly constructed Laboratory, Library and Toilet complex on 12th June Friday evening.
For the stage program that followed, key person involved in this project Rtn. PP Kalbavi Prakash Rao invited Chief Guest of the function District Rotary Foundation chairman (DRFC) Rtn. PDG Sadananda Chathra, President Rtn. Dijaraj Nair, Secretary Rtn. Jathin V. Attavar, International Service Director Rtn PP C Devdas Kamath, Headmistress Mrs. Satyasheela, Founder Trustee Navachethana Charitable Trust Shri P Vedavyas Bhat, President Navachethana Charitable Trust Shri N. Premachandra, PTA President Navachethana School Shri Subramanya Prasad on to the dias.
Students of the school delivered the invocation. President Rtn. Dijaraj Nair welcomed the gathering. He mentioned that our club was the first to successfully execute this project under the new simplified Global Grant program in the district. Rtn PP C Devdas Kamath gave the details of the project. He said project cost about Rs. 25 lakhs and was achieved by partnering with Rotary Club of Central Chester field, RI Dist – 7450 USA through the new global grants program. The project involved construction of toilet complex, new wooden desk and benches, staff tables, Science lab equipments, library with cupboard and books, 100 plastic chairs for the auditorium, computers, two water coolers and training for teachers. He specially recalled the efforts of Rtn. Vasanth Prabhu of Rotary Club of Central Chester field, RI Dist – 7450 USA and thanked him for realization of the project. He also mentioned that till date about Rs. 90 Lakhs have been invested by members of the club directly or through their family on this school.
Chief Guest Rtn. PDG Sadananda Chathra congratulated the Club on the successful completion of the project. He said rotary should try to publicize projects of this magnitude. He wished good luck to the school and students. He also recognized the presence and efforts put in by Rtn. IPP Oswald D'Silva during his address.
Architect of the project Rtn Venkatesh Pai, Contractor Shri Kishore, Trainers of the teachers Ms. Patsy Lobo and Ms. Yogitha Rodrigues, Past headmistress Ms. Rose Alice, Students with highest marks in recent 10th and PUC were felicitated on the occasion.
Following members of our club were also present during the program – Rtn. Umesh Mallya, Incoming president Rtn. Yathish Baikampady, Rtn. PP Ganesh Kamath, Rtn. PP Madhav Suvarna, Rtn. PP Satindra Rao, Rtn Bharat R. Ramani, Rtn Ganesh Nagvekar, Rtn Archibald Menezes, Rtn Jayaprakash Rao, Rtn Dr. Bhaskar Bappal, Rtn Aditya Pai and Rtn. Divakar Pai Kochikar.
PTA President Navachethana School Shri Subramanya Prasad spoke on the occasion and recalled the exemplary growth and success of the school over the years.
Headmistress Mrs. Satyasheela rendered the formal vote of thanks, Program concluded with the national anthem.
The Club had undertaken a project to upgrade facilities at Navachethana English medium School, Neermarga, DK District under the focus area of Literacy of the Global Grants scheme at a cost of USD 39,755(Rs 24,75,000). The project now being complete in all respects,the closure report for this GG project (1419390) has been also completed.
The playground at the Navachethana School had a laterite surface and was very rough and every year many children fall and get serious injuries including fracturing their bones. The club decided take up the levelling of this ground and replace its top soil to create a good play ground for them. This was taken up at an estimated cost of USD 4,700(Rs2,95,000) under the district grant scheme. The project is now completed. The school now has a beautiful playground and the children can now use it without the fear of falling and getting hurt.
YouTube Link: https://www.youtube.com/watch?v=MEkp99tTciw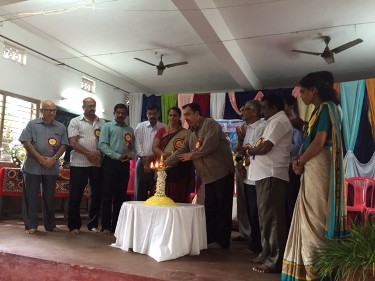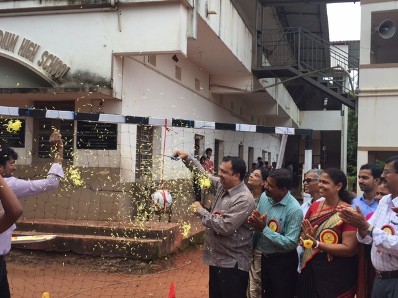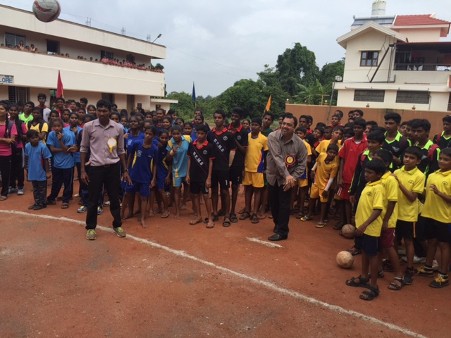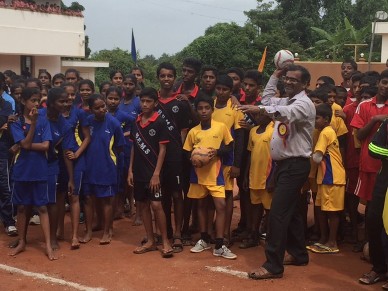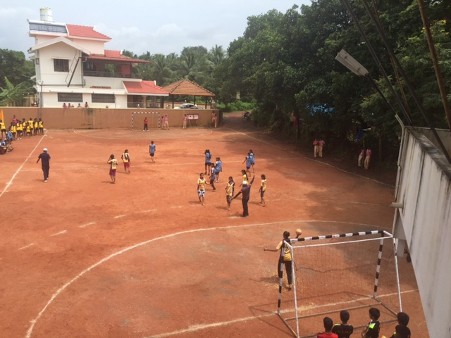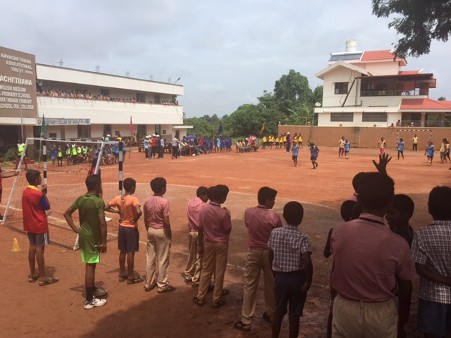 Want to Contribute to This Projects
Contributions to any of our projects may be made to our charitable trust. Kindly contact us regarding any contributions. Donations made to Rotary Club of Mangalore Charitable Trust are eligible for deduction under Section 80G of the Income-tax Act 1961 as per letter No.R-28/80G(R)CIT/MNG/09-10 valid from 01-04-2012 to perpetuity.